All Inventory
4 ft tack room 7x26 allj aluminum trailer with 10 removable pens
Stock #: 2
2011 7.6x25x6.4 Alum-line loaded pig or steer trailer. 10 pens with tack room - side ramp and wired fans. Like New!!
Stock #: 49143
2011 Alum-Line Showmaster 6 x 16 x 5.6 tall center gate with walk thru door 3 pop up air vents lexon side closings
Stock #: 0005
Very good shape.
Stock #: 4914
Lightly Used - Donation Trailers from Jr. Nationals! Two 2013 Loaded 20ft Show Trailers. Optional (9) Pig Pens for adt. charge
Stock #: 49145
Alum-Line Showmaster Low Profile Small Livestock Trailers are perfect for transporting livestock in a small size. Ideal for the small farmer, showman or hobby farmer that needs an efficient and first class unit. Showmaster Low Profile Small Livestock Trailers are very affordable trailers designed for your medium-duty hauling needs. tongue and groove extruded aluminum aerodynamic front diamond plate rock guard side escape door center partition gate full opening end gate with slide-by gate and more...
Stock #: 0001
Near New 2015 Loaded up Alum-Line Showmaster 6.8' x 24' x 6' tall 8 big 50/50 pens 4 ft. Tack room Sealed rear doors and fold down ramp Insulated roof and roof vents Lexon and hinged cover panels LED lights aluminum rims Good as new!!!
Stock #: 0006
Nearly New Featherlite Stock/Horse Trailer 7 x 16 x 6.5 ft tall one center gate rubber mats on floor lined for horses Used only once
Stock #: 0002
5 x 12 x 5.5 nice loaded up Dual-line top comes off to make flat bed trailer
Stock #: 0003
2017 Alumline gooseneck. 7 x 21 x 6.8 tall center gate spare tire and RIM side escape door vents under nose. black aluminum nose slider in back gate
Stock #: 0004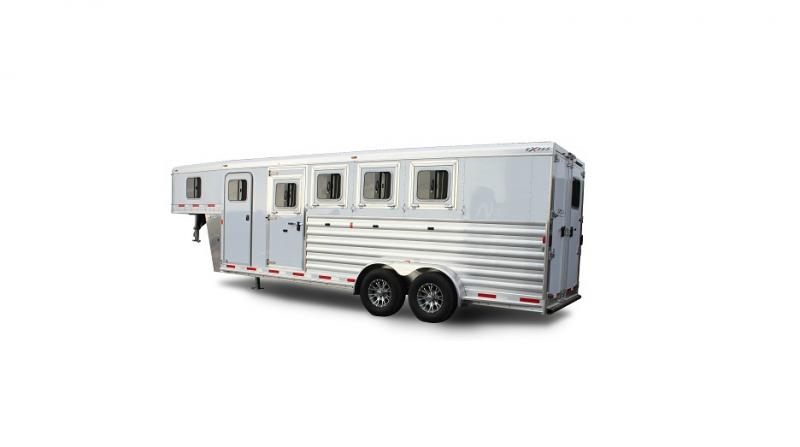 These 2 through 6 horse, slant-load gooseneck models combine an impressive appearance with the horse-friendly features for which Exiss is famous. And it's standard features such as a folding rear tack, patented slam latches, and carpeted dressing room make it the perfect choice for the serious horse enthusiast....
Stock #: 7300 GN-5068812
Get a Quote
Please enter your contact information and one of our representatives will get back to you with more information.
Click to Call
Please enter your name and phone number to get calling options.